As a Rider, you will join others with a wide range of biking abilities but a single purpose: to help struggling young people. You must be at least 16* years of age. Participants are required to gather at least $500.00 in pledged support.
*16 and 17 year olds must be accompanied by a parent or legal guardian. The parent does not need to ride with the minor, but must be present at the ride and participating as a rider or a sagger.
Friday, July 28, 2023
9:00 a.m. Arrive at the Loyalton City Park (next to the Loyalton Elementary School -- see Route Map). Unload your equipment and get ready for sign-in and meetings. If SAG helpers drive up with you, have them drop you off at the school then go to their assigned stations for their SAG meetings and setup. Sign-in, turn in sponsorships, and receive bike/bag tags and safety vest.
11:00 a.m. Pre-ride meal. It is very important that you eat and drink before the ride begins. You may want to bring something to snack on throughout the morning. Some snacks will be provided at registration.
11:30 a.m. Mandatory Rider Meeting. Important last-minute instructions will be given. You must be on time! The meeting will be held under the gazebo, so you may continue to eat your pre-ride meal.
12:30 p.m. Change clothes, make final preparations, and rest.
1:00 p.m. The ride starts promptly from the Loyalton City Park. The distances between SAG stations are 12 and 13 miles.
Saturday, July 29, 2023
1:00 p.m. The ride ends no matter where you are. Stop riding. You and your bike will be picked up and transported back to the Loyalton SAG station by an official sweep vehicle.
1:15 p.m. CER will provide a complimentary Victory Meal for all riders and saggers at the Loyalton City Park. Plan to stay for this meal to find out how far others rode and how much money was raised. Presentations will be made at this time.
Sunday, July 30, 2023
9:30 a.m. If you will be in the area, we would love to have you join us for the post-Agony church service at Christian Encounter Ranch, 17183 Retrac Way, Grass Valley, CA in Angels' Meadow.
The Agony ride is a personal challenge. It's a time of good fellowship, lots of fun, and a chance to go to bat for someone else!
Here are some quotes from individuals who have been helped through the CER programs over the years:
"Coming to the Ranch was my last chance to be a better person…I was plagued by rebellion, not caring if I hurt others…People here gave me a chance."
"…I came with a life full of family problems and …drug use. I ditched school all the time. I was such an angry person…I was not a sociable or loving person. That, and so much more, has changed because of the Lord…"
"…My life seemed like a big blur. I felt nothing, I thought nothing, and my abilities were worth nothing; …I was shown God's love…Now I know in my heart He loves me no matter what!" "I arrived at the Ranch at the age of 16. I was rebellious, I ran away from home, continuously drank, partied, and defied my parents... It has been over 10 years since I was a student at the Ranch, but it continues to be an important part of my life. They have generously spent many an hour counseling me and encouraging me in my walk with the Lord. The terrific thing about the Ranch family is they never forget about you."
Here are some quotes from former riders:
"...I'm tithing for the next 24 hours!"
"Any pain in the body is more than balanced by the joy in the soul."
"My pedal power is provided by the Spirit."
"It's the neatest picture I've ever seen of Christ's Body at work. Some sponsor, some ride, some refill water bottles....but all give and take. Each person is a spoke in the wheel that makes it go 'round!"
"My most intense lesson came through the death of my bike light. I had to follow my partner's light ahead to stay safely on the road. It taught me how really desperate life is without God's light."
"I had a list of all the CER students taped to my bike as I rode. When I got tired, that list reminded me of my reason for riding, and it got easier to keep pedaling. What an encouragement to see so many people working hard for that same purpose."
Safety Rules
Liability constraints and ethical issues require that these guidelines are respected without compromise.
All riders will obey all rules of the road, including riding single file except to pass and obeying all traffic signs.
All riders will have front and rear lights on, and front, side, rear, and pedal, shoe, or ankle reflectors from dusk until sunrise.
Riders are strongly encouraged to ride with at least one other rider at night. Any rider choosing to ride alone must have 2 headlights.
All riders will wear helmets, gloves and CER-provided reflective vests at all times while on the course.
All riders will check in with every SAG station during the event. (You must check in and out at each SAG station, even if you do not wish to stop.)
No rider shall draft a motor vehicle at any time, even for short distances.
No rider shall recruit and bring his/her own private saggers.
No rider shall use headphones while on the course. Earbuds may be used in one ear only (preferably the right ear).
Sag Support
Saggers are a team of people helping you during the ride.
CER provides all food and drink during the entire event. We provide Gatorade sports drink. You may want to start using it during your training.
CER provides SAG support at stationary rest stations and roving motorcycles and vehicles on the course. SAG helpers provide food and drink, muscle rubs, first aid, minor bike repairs, etc. Rovers check on your safety and transport your gear (if you want it) between SAG stations. They also have food, water, and first-aid supplies. If you know individuals who might like to help on the SAG team, have them contact us for SAG information. SAG helpers must be 16 years or older and must be part of the SAG team providing services to all riders. (16- and 17-year-olds must be accompanied by a parent.) Novice saggers will be trained during the Agony Ride.
Gear bag: You may choose to leave your gear bag in Loyalton or have it transported to the other SAG stations as you go.
Sleeping: If you plan to sleep, you may want to bring a small tent and a sleeping bag for Loyalton. CER will provide limited tents, mattresses, and blankets at each SAG station.
No Spectators or children
We ask everyone who comes to register to help as a stationary or roving SAG helper. There are tasks for folks with varying levels of ability and endurance. All saggers must be at least 16 years of age. (16-and17-year-olds must be accompanied by a parent.)
Location
25 miles north of Truckee in the Sierra Valley in and between the towns of Vinton, Loyalton, and Beckwourth.
Roads
Paved state and county highways are in very good to fair condition; some may have occasional wash-boards, potholes, sand, or gravel. The route is relatively flat. Two, three-mile stretches of the route are on State Hwy. 49, which is moderately traveled. You must obey all traffic laws, including riding single file at all times except to pass other riders.
Weather
Temperatures may range from 90ºF or higher in the day to 20ºF at night. The average elevation is 5,000 ft., and it can rain almost any day of the year. There are almost always strong, gusty winds in the afternoon.
Check-in
Check in at the Loyalton City Park (next to the Loyalton Elementary School; see map) at 9:00 a.m. on Friday to turn in any remaining sponsorships, and to receive numbered tags for your bike and bag and a numbered reflective vest.
Rider Safety and Rules During the Agony Ride
You must obey all the California State traffic rules that apply to bicycle operation. Always travel the same direction as vehicle traffic. Signal before making a turn, don't go over 55 mph (don't you wish), ride single file, etc.
Safety Equipment
You must wear the provided Agony vest on the outside of all clothing.
You must wear a bike helmet and gloves, and have your bike equipped with side, front and rear reflectors. You must use a headlight and taillight for night riding, and have white or yellow reflectors on both pedals, shoes, or ankles (California State law).
Safety Rules
Ride single file. Because of auto and truck traffic, it is not safe to ride side by side. (It is also illegal.) When it is safe to do so, you may pass other riders and then go back to single file.
At night, all riders are strongly encouraged to ride with at least one other rider because of possible illness or accident and possible, but unlikely, harassment from a motorist. Any rider choosing to ride alone must have 2 headlights.
No headphones may be used during the Agony Ride while on the roadway. Ear buds may be used in one ear only (preferably the right ear).
Traffic Congestion
The location of the Agony is one of the safest routes for a bicycle event in the entire state of California. Keep in mind however:
The roads are narrow and do not have shoulders.
Cars and trucks travel above the speed limit.
Be especially careful of traffic when you enter and leave the SAG stops.
You Are an Ambassador
You represent Christian Encounter Ranch and Jesus Christ to the people of this valley. Be courteous and respectful.
If you are treated with disrespect or hear of complaints, report it to the Ride Director via a SAG leader or Roving Sagger, and let the Ride Director handle it.
Be sensitive to those living in the valley. Between 9 p.m. and 8 a.m. keep the noise down, especially in and around the towns of Loyalton and Vinton.
The following information is provided for novice riders. If you are an experienced rider, you're on your own!
Don't just stand there, do something! For most of us, our hectic schedules and aversion to discomfort make it difficult to work out on a regular basis. A one-time shot for a good cause—like the Agony ride—is one thing, but training several times a week? No way! Nonetheless, you will find the Agony ride a much more pleasant and successful experience if you start training now.
Be sure your bike is properly adjusted for you, or you could severely injure yourself (especially your knees). If you are not positive about the setup, see a pro at a bike shop.
Start slowly, but do start. Don't ride 40 or 50 miles the first day. Start with slow, easy rides—5-10 miles. Get used to your bike and get your body used to riding. Gradually increase time, distance, and effort.
Be sure to eat and to drink plenty of water or electrolyte drink before, during and after training.
Train for both strength and endurance. Riding hills will increase strength. Riding long miles on relatively flat road or trail will increase endurance (especially for your rear end!). Strength also aids endurance, so don't completely avoid those hills and wind, no matter how much you hate them!
If you can't get on your bike due to weather, time, mechanical problems, etc., do something else. Walking, running, swimming, weight training, calisthenics or aerobics are all helpful. Some cross-training is a good idea anyway.
Your last long training ride should be Saturday, Sunday, or Monday before the ride. Give your body a chance to recover and store up energy. Short rides to keep your muscles loose are recommended all the way through Wednesday, or even Thursday. Eat and drink more than normal the day or two before the ride, especially complex carbohydrates.
Bike
If you don't already have one, purchase or borrow a good-quality bike that fits you properly. Riding the wrong size bike can result in severe injury, especially to your knees. A good bike shop can help you adjust your seat, handle bars, etc.
A road bike (racing or touring) or a mountain bike is acceptable. Road bikes go faster (take less work for the same number of miles), but you may be more comfortable on a mountain bike. Special, high-pressure tires for mountain bikes really help.
If you are thinking about riding a tandem (bicycle built for two), make sure it is a very high quality bike comfortably adjustable for both riders. Both individuals must have $500.00 in sponsorships (minimum $1,000.00 for the tandem).
Make sure your bike is in top condition. Check, or have your bike shop mechanic check: bearings, chain, brakes, wheels true, all gears work, crank, headset, lights (front and rear, required), reflectors (front, side, and rear; and pedals, ankles, or shoes, required), pedals, seat locks solid, good friction wrap on handle bars, tire condition and pressure. There will be some mechanic help available at the ride, but it is best if you start with your bike working well.
Gear
ONE large duffel bag for your clothes and extra gear. Put your name on it.
Clothing: Layers for all temperatures, wind pants and jacket, rain gear, bike gloves (required), helmet (required). Reflective material on clothing and helmet is recommended. You will be issued a reflective vest to wear outside clothing.
Miscellaneous: Sunglasses, sunscreen, lip balm, toothbrush.
Bike equipment: Lights (front and rear, required), spare tire, tubes, patch kit, tire irons, frame pump, spare parts and bike tools (as you think needed), water bottles (or hydration pack— i.e. Camelback) (required).
Sleeping: If you plan to sleep, you may want to bring a small tent and a sleeping bag.
We recommend that you put your name on everything.
Sponsorship forms
Bring any filled-out sponsorship forms and donations you still have. Make sure all checks are made out to CER.
Pre & Post Ride
Housing
Limited housing is available at Christian Encounter Ranch the night before and the night after the ride. Call 530-268-0877 as soon as possible to make arrangements. We may also be able to help you with transportation from the Ranch to the ride and back. Please contact us at least two weeks before the ride to make arrangements for housing and transportation.
Transportation
Parking in Vinton and Loyalton is limited. Carpool if you can. If at all possible, ride with a sagger. We strongly discourage riders from driving after the Agony unless you slept most of the night. (Driving at that level of fatigue is no better than driving drunk.) If you absolutely must drive yourself home after the ride, you should plan on sleeping at least 6 hours during the ride or before starting your journey home.
Directions to the Sierra Valley
Truckee, CA, is located on Interstate 80 near Lake Tahoe. Hwy. 89 leaves Truckee, crosses Interstate 80 and goes north to Sierraville and Loyalton. Sierraville is located 25 miles north of Truckee, where Hwy. 89 and Hwy. 49 intersect. Turn right at the stoplight in Sierraville (onto Hwy. 49) and continue about 14 miles to Loyalton. The Loyalton Sag Station is on Beckwith Street at the Loyalton City Park (right next to the Loyalton Elementary School, 111 Beckwith Street).
To go to the Loyalton City Park turn left on 4th street, go one block and turn left on Beckwith Street. The park will be on your right just past the Loyalton Elementary School. See map. If using Google maps, do not confuse this park with the one in Sierra Brooks. This park is not on the map. Use the school address.
Riders must be at this park by 9:00 a.m. the day of the ride.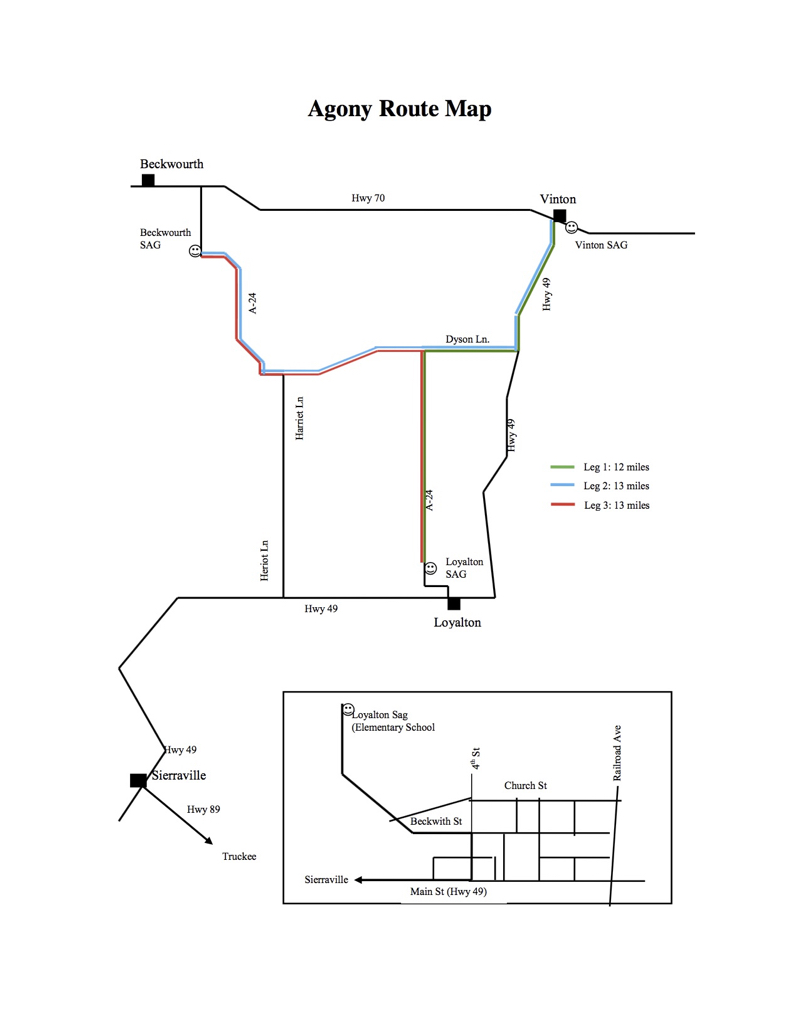 We're very excited about our jerseys. They are a great way to spread the word about what God is doing here at CER and how others can participate in it through the Agony Ride. If you're looking for a conversation starter, this is a good one!
Cost for the jerseys starts at $91 by cash or check, $93 by credit card.
For sizing information, click here.
We currently have very limited inventory. To request a jersey, please email caryn@christianencounter.org. If we have your size, we will send you a link to pay and arrange for you to pick it up at the Ranch or at the ride.
How old do I have to be to ride?
You must be at least 16 on the day of the ride. If you are 16 or 17, you must have a parent or guardian present at the ride.
Is there an upper age limit?
No. If you can ride a bicycle (or adult tricycle) you can participate as a rider. We have had several riders in their 70s and even one or two in their 80s!
How much money do I have to raise?
We ask that you raise at least $500.00.
I'm not good at fundraising. Can you help me?
Yes. Start by watching the fundraising video for ideas and inspiration. After you sign up, you will be sent a link for your personal fundraising page. Put your personal message on that page and send the link to all your potential sponsors. We have brochures available for you to use; we will email you flyers to refer people to our YouTube videos; and we are available to come speak at your church or club. Also, our donor services staff will contact you to offer help.
Can I sponsor myself?
Certainly. All donations are tax deductible, even if you sponsor yourself.
How and when do I turn in my sponsorship forms?
You can mail forms to us as you collect them at any time before the ride. The more forms we receive before the ride, the better. Any forms you collect too late to mail you can bring to the ride with you. Having sponsors use the online sponsorship form is ideal.
What percent of the donations actually goes to CER?
We do not use an outside fundraising organization, so 100% goes to CER. We spend about 10-12% on the cost of the event (permits, food, gear, gas, etc.).
Can my friends and I ride as a relay?
No. Each participant must raise at least $500. You may ride as little or as much as you want or can.
How far is it between SAG stations?
Loyalton to Vinton is 12 miles. Vinton to Beckwourth is 13 miles. Beckwourth to Loyalton is 13 miles.
What does SAG stand for?
Support and Gear.
What food and drink is provided?
All SAG stations will have water, Gatorade, Coke, chicken noodle soup, a variety of fresh fruit, sandwiches made to order (turkey, ham, cheese, PB & J), chips, and cookies. In addition there may be pancakes, eggs, waffles, biscuits and gravy, and other varied items. Food will be provided at the pre-ride meal, throughout the ride, and at the post-ride meal.
Is there any provision for people with food allergies/sensitivities?
There will be some gluten-free food available. Let us know what specific issues you have and we will try to be accommodating. Despite our best efforts, we cannot guarantee that cross-contamination will not occur; therefore it may be a good idea to have some of your own food.
Biking is not my thing. Can I run instead?
No. This is a biking event. You can help as a "sagger" (volunteer) and/or participate in our 5K Run for Hope in April.
Are E-bikes allowed?
E-bikes are allowed for virtual riders only. E-bike virtual riders are expected to communicate this information with their sponsors.
Do I have to ride all night?
No. We provide mattresses and blankets/sleeping bags at each SAG station. You may sleep as long as you like.
Can I sleep at any SAG station?
Yes. We provide sleeping arrangements at all three SAG stations. At Loyalton and Beckwourth the beds are in tents; at Vinton they are in the large meeting room of the Grange Hall. You may want to bring your own tent and sleeping bag if you plan to sleep at Loyalton.
Can my family and friends come and watch?
No. Unfortunately, this is not really a spectator-friendly environment. For the safety of your children and the bike riders, we ask that you not bring anyone under the age of 16 to the event. 16- and 17-year-olds, whether riding or sagging, must be accompanied by a parent. Any adults who wish to see you ride should sign up and participate as saggers. Folks will be able to track your progress from SAG station to SAG station online.